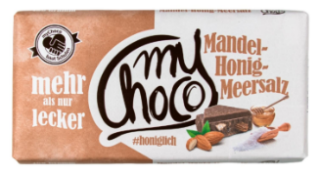 | | |
| --- | --- |
| name | Milk chocolate with almonds, honey and sea salt |
| Brand | MyChoco |
| Unity | 180g |
| Date of minimum durability (MDD) | 08/06/2023 |
| Batch | 22067 |
Danger  : Too high aflatoxin content
Aflatoxins are mycotoxins produced by certain species of Aspergillus molds which develop when the degree of temperature and humidity of the food is high. Aflatoxins are considered genotoxic and carcinogenic by the European Food Safety Authority and can be dangerous with high and repeated consumption.
Sale in Luxembourg by: Center Bohey
A sale by other operators cannot be excluded.