In February 2022, a small five-single nucleotide polymorphism (SNP) single linkage cluster of eight cases of infection with monophasic Salmonella enterica subsp. enterica serotype Typhimurium (1,4,5,12:i:-) eBG 1, sequence type (ST) 34 was identified in the United Kingdom (UK). The cluster was unusual, with all but one reported case younger than 10 years, and the strain demonstrated genotypic markers of an unusual antimicrobial resistance pattern not commonly seen in livestock, food or human disease cases in the UK. The cluster was not closely related to any other UK strains of monophasic S. Typhimurium.
Exploratory interviews using an open-ended, anthropological approach (not binary yes/no questions) were undertaken with the parents/guardians of five cases in England for hypothesis generation. Subsequently, a targeted questionnaire to refine hypotheses identified through the exploratory interviews was used, confirming a strong signal for a specific brand of chocolate products.
Following the UK's notification on the European Centre for Disease Prevention and Control (ECDC) EpiPulse Food and Waterborne Diseases (FWD) platform on 17 February 2022, and an Early Warning and Response System (EWRS) alert on 25 March, Germany, Sweden, France, the Netherlands and subsequently Luxembourg, Norway, Ireland, Belgium and Spain reported confirmed or probable cases in their respective countries.
Case definition
The agreed European Union (EU) case definition for confirmed cases was laboratory-confirmed monophasic 
S.
 Typhimurium with symptom onset on or after 1 October 2021 and belonging to the same five SNP single linkage cluster by SNP typing or cases who clustered within five allelic differences of another confirmed outbreak strain by core genome multilocus sequence typing (cgMLST) analysis or shared the same HC5_296366 by the EnteroBase HierCC scheme [
1
]. This definition therefore depended on the whole genome sequencing (WGS) methodology used at the national level in each country (i.e SNP typing or cgMLST analysis). Probable cases were those with laboratory confirmation of monophasic 
S.
 Typhimurium with symptom onset on or after 1 October 2021 and phenotypic antimicrobial resistance (AMR) results consistent with the outbreak strain or a multilocus variable number tandem repeat analysis (MLVA) profile 3–11–14-NA-0211.
Detected cases in the EU/EEA and United Kingdom
By 10 April 2022, a total of 150 confirmed and probable cases were identified across nine EU/European Economic Area (EEA) countries and the UK, with case sampling dates ranging from 21 December 2021 (the first UK case) to 28 March 2022 (
Figure 1
). Descriptive epidemiological investigations demonstrated cases ranged in age from 8 months to 56 years, but were predominately under the age of 10 years (n = 134; 89%) and disproportionately female (n = 99; 66%) (
Figure 2
). The hospitalisation rate was 42% of cases for whom information was available (116 cases with 49 hospitalised) – higher than that usually reported in salmonellosis outbreaks [
2
] and for individual cases of infection with 
S
. Typhimurium [
3
]. While this is probably also influenced by the demographic characteristics of those affected, this is a possible indicator of increased clinical severity of infection in this outbreak.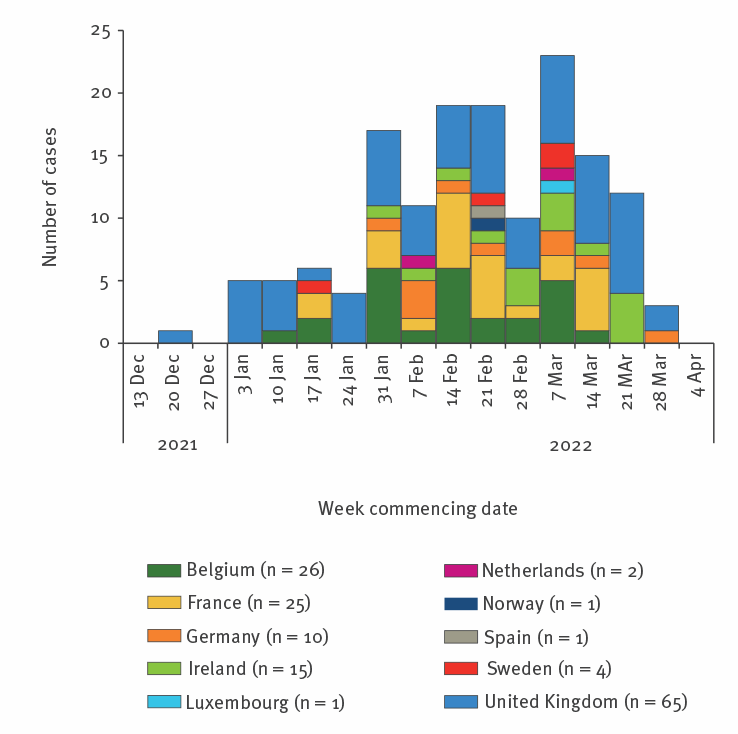 EEA: European Economic Area; EU: European Union; UK: United Kingdom.
a Case onset date (n=108) is not consistently available for all reported cases, therefore date of sampling has been used where case onset date is unavailable (n=39) or date of receipt at reference laboratory where both onset and sampling dates are unknown (n=3).
b Probable cases were reported by Belgium (n=19) and Germany (n=2) (data as of 13 April).
Figure 2.Distribution of confirmed and probable salmonellosis outbreak cases, by age group and sex, EU/EEA and UK, up to 10 April 2022 (n = 150)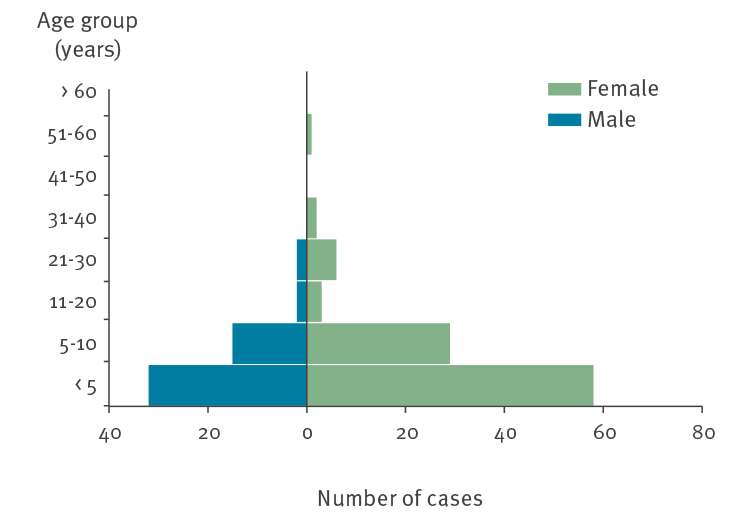 EEA: European Economic Area; EU: European Union; UK: United Kingdom.
Multi-country collaboration through teleconferences and sharing of information between public health agencies and reference laboratories indicated that cases in affected countries commonly reported consumption of a specific brand of chocolate products. Overall, of 101 case interviews carried out across the 10 affected countries, 88 cases (87%) confirmed consumption of these products. The most commonly consumed product was Product A, marketed primarily for children in the age group 3–10 years, but multiple other product types were also reported.