ARRIVÉ  SAS is recalling the following product: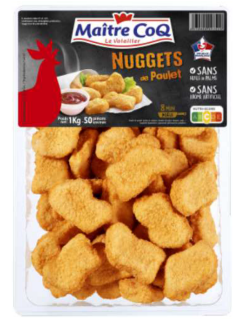 | | |
| --- | --- |
| Last name | Chicken nuggets |
| Mark | Master Rooster |
| Unity | 1kg |
| bar code | 3230890027529 |
| Use-by date (DLC) | 08/12/2022 |
| Batch | 2P22201 |
Danger  : Presence of potential Listeria monocytogenes
Listeria monocytogenes can cause fever, headache and gastroenteritis. Vulnerable people such as immunocompromised and elderly people and young children may present with neurological symptoms due to meningitis. Pregnant women should also be especially alert to these symptoms. Gastroenteritis can appear between a few hours and 3 days after consumption, while neurological symptoms can only appear after 3 months. People who have consumed these products and have these symptoms are invited to consult a doctor and report this consumption to him.
Sale in Luxembourg by: Cora
A sale by other operators cannot be excluded.
Information Source: Cora Recall Notification
Click to access nuggets-maitre-coq-fr.pdf
Communicated by: Government Commission for Quality, Fraud and Food Safety .