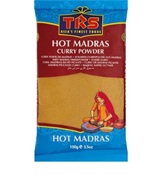 | | |
| --- | --- |
| Last name | Hot Madras Curry Powder |
| Mark | TRS |
| Unity | 100g |
| bar code | 5017689002602 |
| Date of minimum durability (MDD) | 06/30/2023 |
| Batch | 20215183885 |
Danger: Presence of salmonella
Salmonella can cause symptoms such as nausea, vomiting, abdominal cramps, diarrhea, fever and headache within 6 to 72 hours after consumption. These symptoms may be aggravated in young children, immunocompromised subjects and the elderly. People who have consumed these products and have these symptoms are invited to consult a doctor and report this consumption to him.
Sale in Luxembourg by: Dafa Supermarket Luxembourg
A sale by other operators cannot be excluded.
Source of information: RASFF (Rapid Alert System for Food and Feed)
Communicated by: Government Commission for Quality, Fraud and Food Safety .