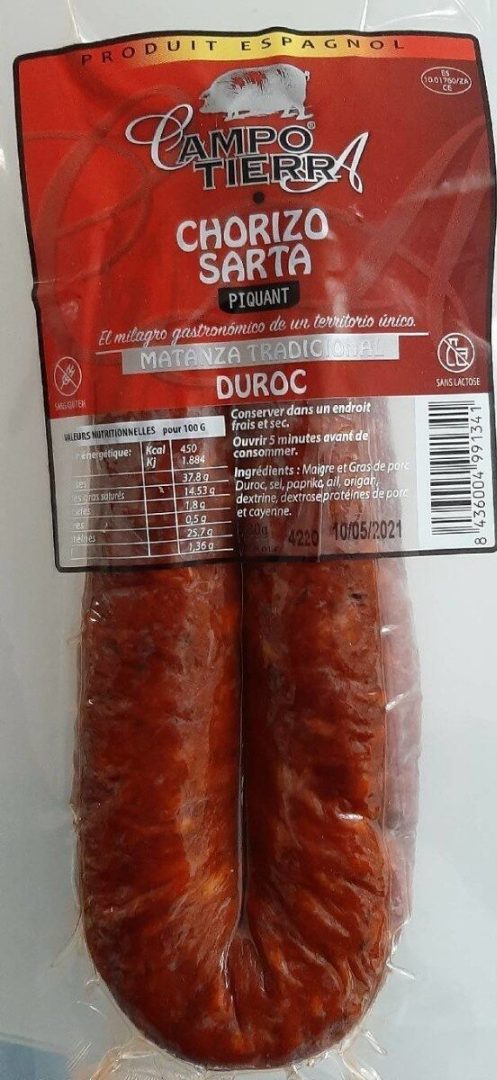 Identifying information for the recalled product
Product category

Food

Product sub-category

Meats

Product brand name

CAMPO TIERRA

Names of models or references

CAMPO TIERRA SPICY SARTA CHORIZO 280g

Product identification

| Lot | Dated |
| --- | --- |
| 1021 | Use-by date 09/26/2021 |

Packaging

280g

Start date / End of marketing

From 04/15/2021 to 05/12/2021

Storage temperature

Product to be stored at room temperature

Health mark

ES 10.01760 / ZA

Geographical sales area

Whole France

Distributors

Sale in some stores (Cora, Leclerc, Intermarché, Super U, Casino): cf. 14 points of sale in the attached list.

List of points of sale

Traceability.pdf
Practical information regarding the recall
Reason for recall

presence of salmonella.

Risks incurred by the consumer

Salmonella spp (causative agent of salmonellosis)




Consumer behavior

Stop consuming




Destroy the product




Sanitary recommendation

Food poisoning caused by salmonella results in sudden onset gastrointestinal disorders (diarrhea, vomiting) often accompanied by fever and headaches which generally occur 6 to 72 hours after consumption of the contaminated products. These symptoms may be more pronounced in young children, pregnant women, immunocompromised individuals and the elderly. People who have consumed these products and who present these symptoms are invited to consult their doctor, notifying him of this consumption. In the absence of symptoms within 7 days after consuming the affected products, there is no need to worry and consult a doctor. If the product must be cooked before consumption:




Compensation modalities

Other (see additional information)




Additional public information

Contact the reception of the purchasing store.