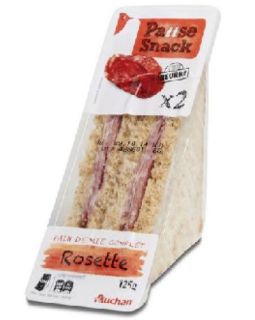 | | |
| --- | --- |
| Last name | Club Rosette Sandwich |
| Mark | Auchan |
| Unit | 125 g |
| Bar code | 3596710385041 |
| Use by date (DLC) | 11/15/20; 11/18/20; 20/11/20; 11/22/20; 11/25/20; 11/28/20 |
| Lot | 030401; 030701; 030901; 031101; 031401; 031701 |
Danger  : Potential presence of Salmonella
Salmonella can cause symptoms such as nausea, vomiting, abdominal cramps, diarrhea, fever and headache within 6 to 72 hours after consumption. These symptoms may be aggravated in young children, immunocompromised individuals and the elderly. People who have consumed these products and who present these symptoms are advised to consult a doctor, notifying him of this consumption.
Sale in Luxembourg by: Auchan
Source of information: Auchan recall notification
Communicated by: Government Commission for Quality, Fraud and Food Safety .