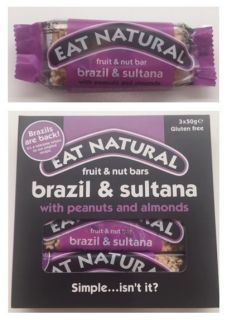 Last name
FRUIT & NUT BARS – BRAZIL & SULTANA (with peanuts and almonds) – packaging: individual or multipack (3x)
Mark
NATURAL EAT
Unit
50 g
Bar code
Individual: 50 g – EAN 50676262

Multipack: 3 X 50 g – EAN 5013803666149

Date of Minimum Durability (DDM)
August 2020 to June 2021
NEW
| | |
| --- | --- |
| Last name | NATURAL BAR Fruit & nut |
| Mark | HEMA |
| Unit | 45 g |
| Article number | 10.41.0001 |
| Date of Minimum Durability (DDM) | all |
Danger  : Possible presence of Salmonella
Salmonella can cause symptoms such as nausea, vomiting, abdominal cramps, diarrhea, fever and headache within 6 to 72 hours after consumption. These symptoms may be aggravated in young children, immunocompromised individuals and the elderly. People who have consumed these products and who present these symptoms are advised to consult a doctor, notifying him of this consumption.
The sale of the products is confirmed in various points of sale in Luxembourg.
Source of information: Mandatory notification and RASFF (Rapid Alert System for Food and Feed)
Communicated by: Government Commission for Quality, Fraud and Food Safety .