Since 31 March 2022, 21 cases of Salmonella Enteritidis have been registered at the Statens Serum Institut. In the current outbreak, the source of infection remains unknown, but an investigation is underway.
Last edited on August 16, 2022
About the disease outbreak
Between 31 March 2022 and 30 July 2022, 21 people have been registered at the Statens Serum Institut who have been infected with the same type of Salmonella Enteritidis (figure 1). Among the sick are 15 men and 6 women. The patients are between 8-59 years old (median age is 28 years). The patients primarily live in the Capital Region and Zealand Region (table 1).
The Statens Serum Institut is working together with the Danish Veterinary and Food Administration and the Norwegian Food Institute DTU on this outbreak to identify the source of infection.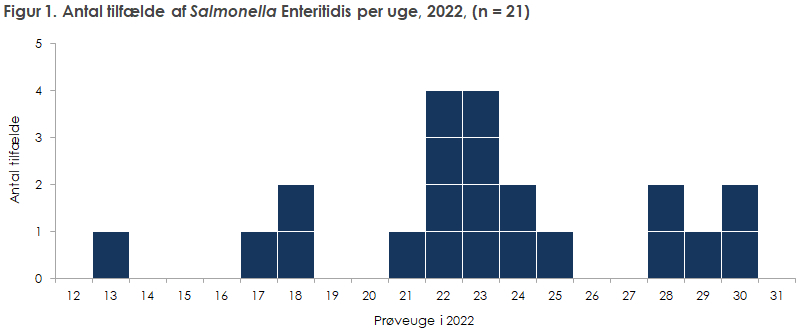 Table 1. Patients with 
Salmonella
 Enteritidis in Denmark, March to July 2022, per region (n=21)
| | |
| --- | --- |
| Region |  Number of patients |
|  The capital  |  13 |
|  Zealand  |  5 |
|  Central Jutland  |  2 |
|  Southern Denmark  |  1 |
|  Northern Jutland  |  0 |
|  Total |  21 |
The outbreak strain
The bacteria is of the type Salmonella Enteritidis. When whole-genome sequencing of the bacteria isolated from the patients shows that they are very closely related and belong to sequence type 11.
General about salmonella infection
Salmonella is found in animals and can infect humans through food contaminated with the bacteria. Salmonella is a frequent and well-known cause of bacterial intestinal infections in Denmark. There are more than 2,500 different types of salmonella.
Incubation period
The time that passes from being infected to getting symptoms varies from 6-72 hours. Usually 12-36 hours before symptoms appear.
Symptoms
Infection with salmonella typically causes general malaise, diarrhoea, stomach ache, possibly nausea, vomiting and/or fever. The infection is often accompanied by joint pain, muscle pain and headache. Plenty of fluids are important to prevent and treat dehydration from diarrhea and vomiting. In the event of severe diarrheal disease, a doctor should be consulted.